February 24, 2015
Baseball tends to get most of the recognition when it comes to card collecting, but other sports, like football, also have their own collection of cards for each player, whether good or bad. The very first football cards appeared in the late 1800s, but it was not until the mid-1900s that their popularity really took off and brands like Topps and Bowman began recording history with each card. The top 10 football cards of all time include famous players, rare editions, and special editions that any collector would love to get their hands on.
---
1
1955 Topps Don Hutson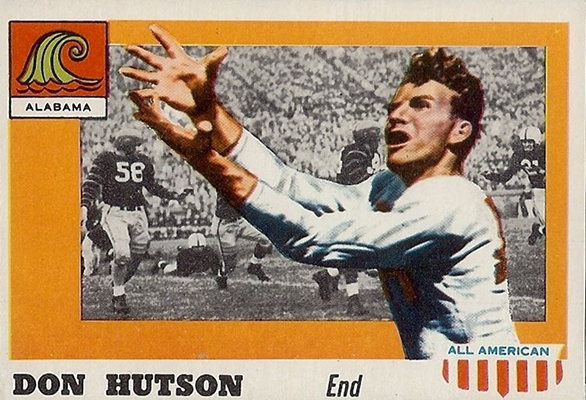 This particular card comes from the 1955 Topps All-American set, which included several famous college football players, like Don Hutson. Since Hutson went on to become an outstanding wide receiver for the Green Bay Packers, this rare card is one to seek.
---
2
1957 Topps John Unitas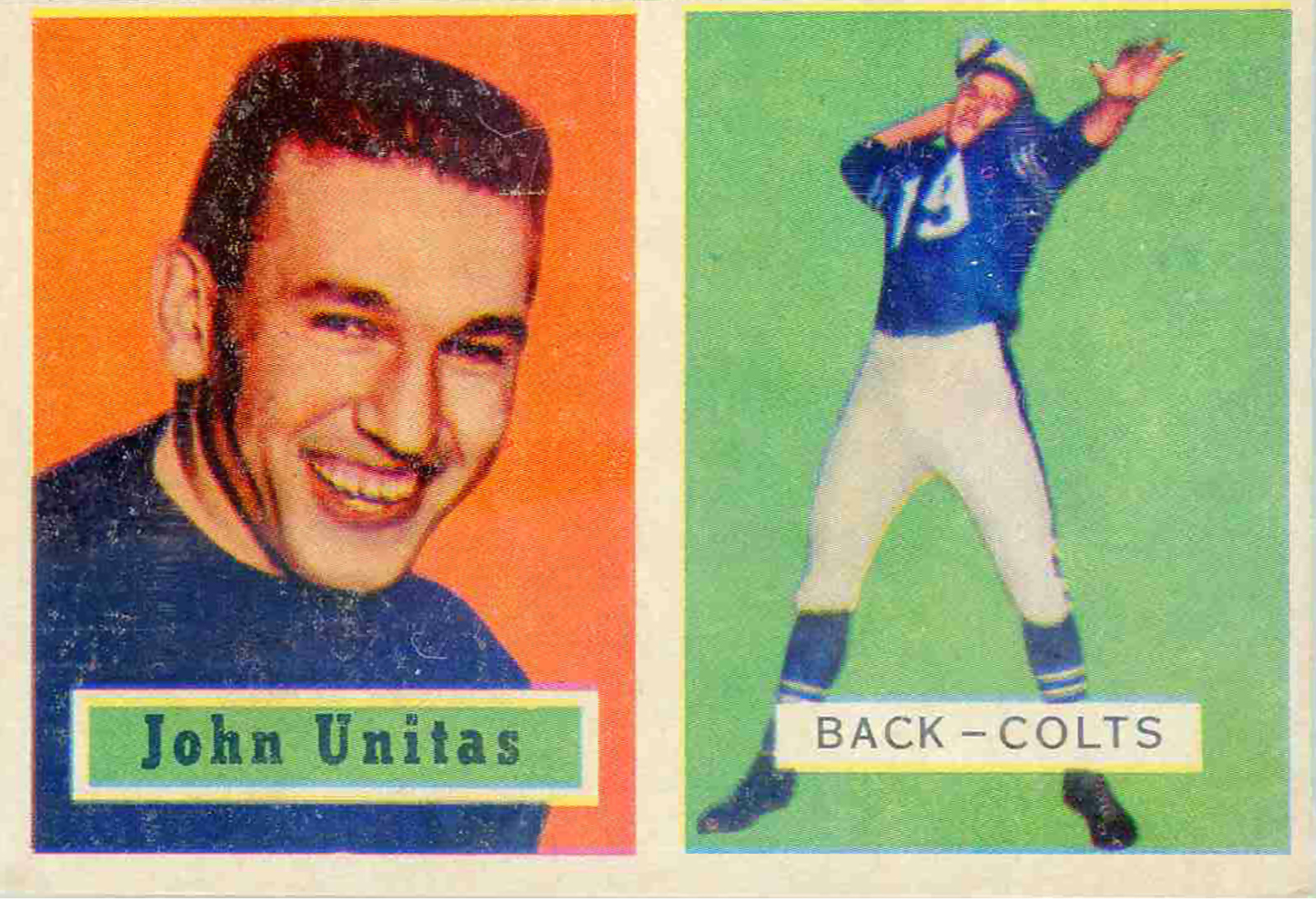 The 1957 Topps John Unitas card may be one of the hardest cards to find, but it is well worth it. His career is one to remember as the player who led his team to victory in what some consider to be the best championship game ever. It came in a set with other now-valuable cards featuring players like Bart Starr and Paul Hornung.
---
3
1958 Topps Jim Brown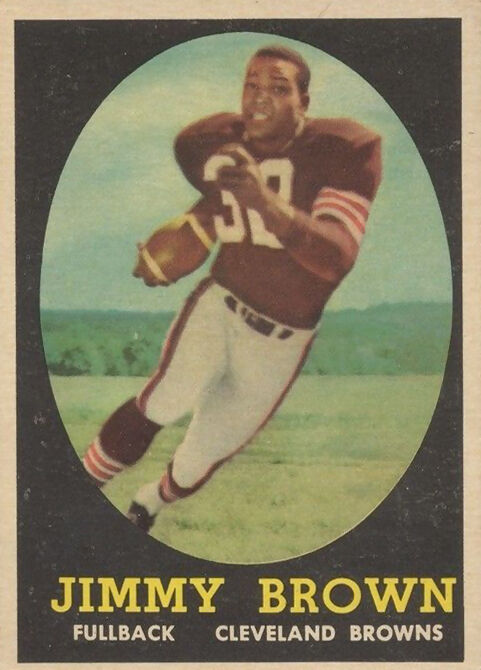 Due to many print defects and rarity, most people may only ever see replicas of the 1958 Topps Jim Brown card. He was the best running back in football during his career and some believe him to be the best of all time with three MVP awards and an average of over 5 yards per carry.
---
4
1981 Topps Joe Montana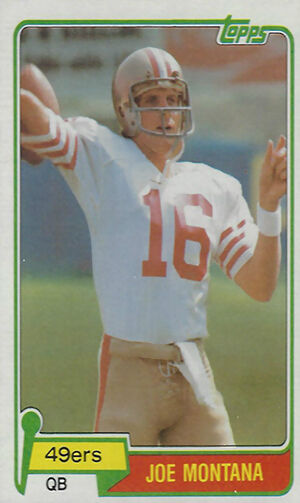 When anyone wins the Super Bowl four times, they go down in history, and that is why the 1981 Topps Joe Montana card makes it onto the top 10 list. Though the card lacks visual appeal, collectors still treat it as gold.
---
5
1998 Bowman Peyton Manning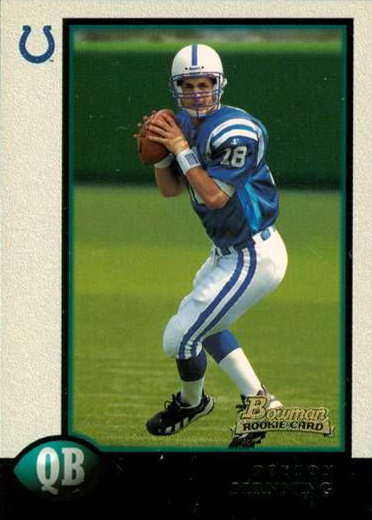 No NFL fan can deny that Peyton Manning has talent, which makes his rookie cards from the 1990s quite collectible. The 1988 Bowman Peyton Manning card came in packs and it makes a nice mid-range collector's piece. However, several limited edition and signed versions also exist.
---
6
1989 Score Barry Sanders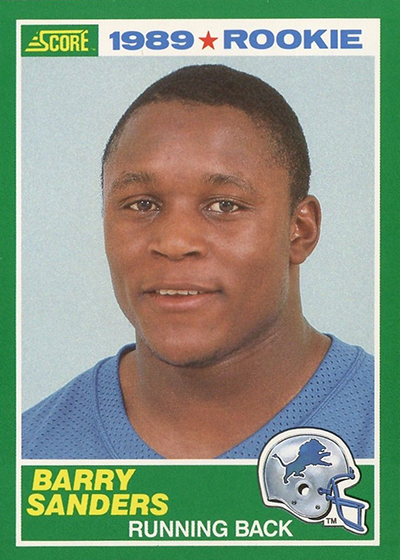 Even though he played for an average team, he gained over 15,000 yards during his 10 seasons, which makes the 1989 Score Barry Sanders card one to collect. The rookie card features a plain design with Sanders in a T-shirt, but collectors should not overlook it.
---
7
2012 Topps Russell Wilson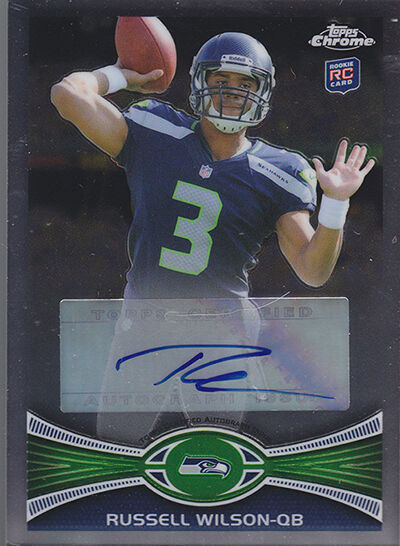 After winning the 2013 Super Bowl, collectors cannot ignore the 2012 Topps Russell Wilson card. The chrome edition comes in several variations with different color schemes and prints, but any of them are to be collected, especially since the team made it to the 2014 Super Bowl as well.
---
8
1972 Topps Roger Staubach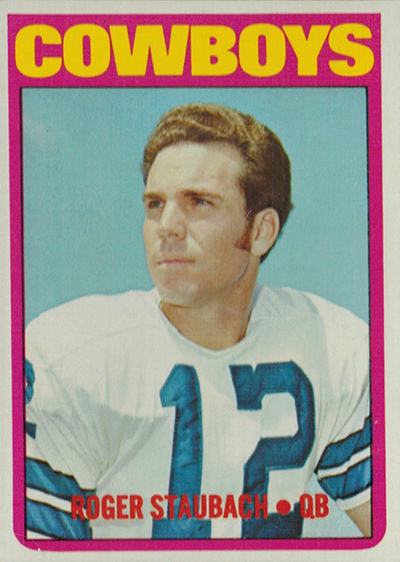 Many consider him to be an American hero because Roger Staubach joined the Navy before entering the NFL and then led his team to victory time and time again. The Cowboys were "America's Team" and Staubach was their boy, so collectors should keep an eye out for the 1972 Topps Roger Staubach card.
---
9
1976 Topps Walter Payton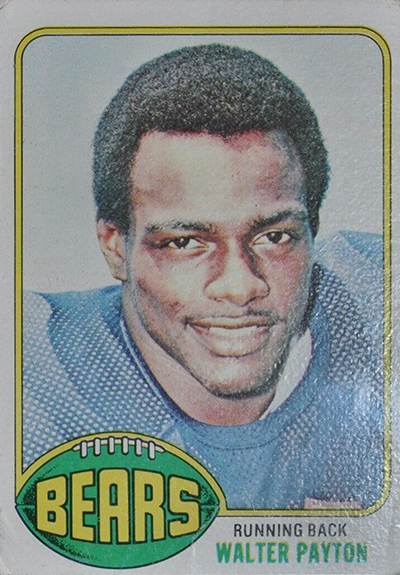 Of all of the cards that came from the 1970s, the 1976 Topps Walter Payton card is the one to collect. Payton rushed for over 16,000 yards during his career and did most of it on an artificial surface at Soldier Field.
---
10
2003 Bowman Tony Romo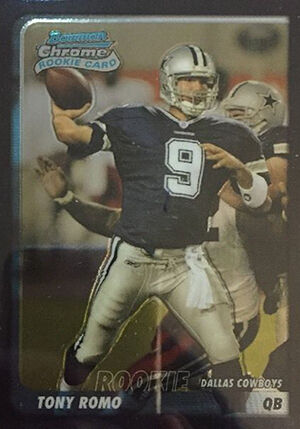 Thanks to his fame as a great quarterback for the Dallas Cowboys, all of Tony Romo's cards are collectible but the 2003 Bowman Tony Romo rookie card is the one for which collectors should search. There are many editions of it, including uncirculated cards, but collectors seek after all of them.
---